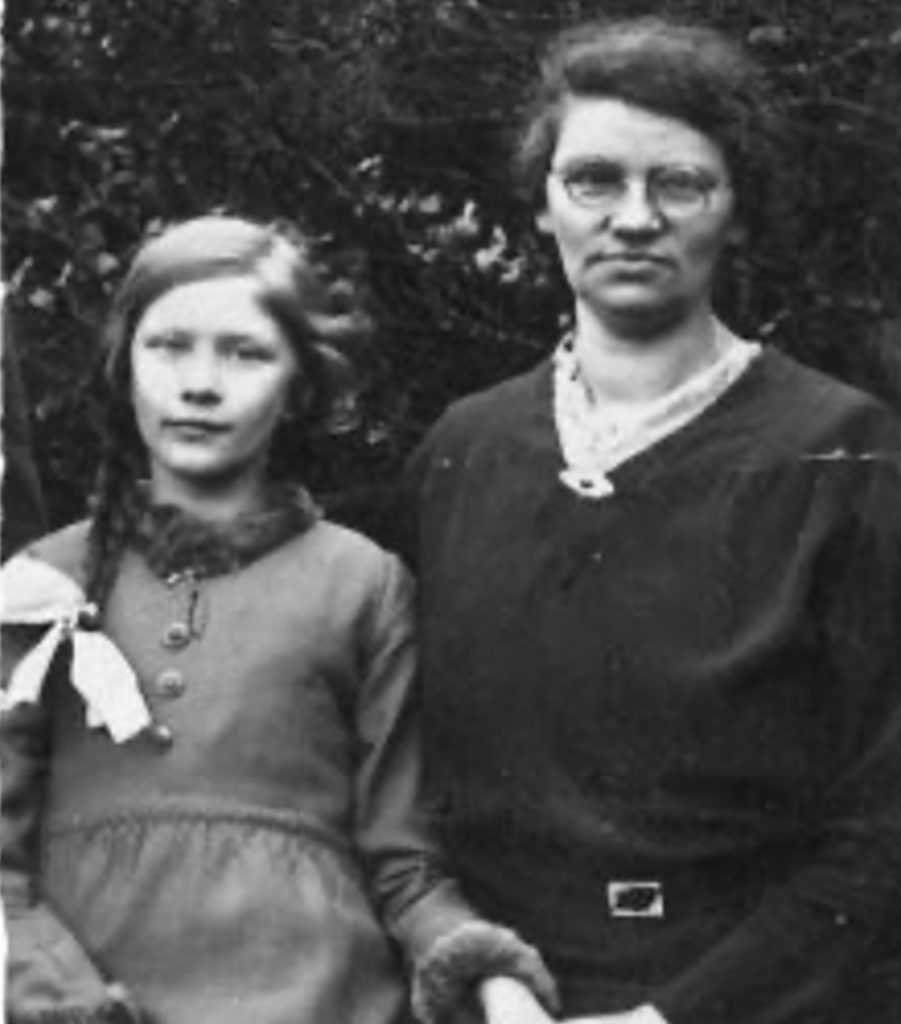 Jan and Johanna Stroomenbergh, and their two adult children, also called Jan and Johanna (later Halpern) were devout Protestants from Driebergen in the Netherlands. They were fiercely committed to saving the "People of the Book," even if it meant putting their own lives in danger.
Photo: Johanna, Jr. and Johanna Stroomenbergh, Sr
Jewish Foundation for the Righteous
Of the nearly 160,000 Jews who registered with the authorities in the Netherlands at the beginning of 1941, around 30,000 had gone into hiding. The need to secure hiding places was evident for many Jews when the German authorities ordered deportations of Jews in summer 1942. Among those who went into hiding were Arnold Bouwman and his family. In early 1943, five-year-old Arnold, his parents, aunt, and uncle from Zeist in the Utrecht area were looking for a new hiding place. A local underground activist arranged to take the boy to the Stroomenberghs in the nearby Driebergen. The family treated the Jewish boy like a member of their family. Only the immediate family and the local minister knew Arnold's real identity. To everyone else, he was a nephew who had been evacuated from The Hague. Whenever there was a warning of an impending search, Johanna Jr. took Arnold on the back of her bicycle to her friends until the danger passed. Bouwman stayed with the Stroomenberghs until May 1945.
The Stroomenberghs were rescuers. They were also resistance fighters. Their house served as a center for the Dutch Resistance. Johanna Jr. was a courier for the underground, accompanying Jews to hiding places, delivering messages and food coupons. Jan Jr., too, participated in resistance efforts. On January 23, 1945, Jan Jr., dressed in a Nazi uniform, took part in a successful raid on a police station in Zeist, freeing about 12 mostly Jewish prisoners. He also arranged temporary hiding places for them in the church where his father had served as a caretaker until he could secure more permanent hideouts. One of the freed prisoners, Ernst Stein, stayed with the Stroomenberghs until liberation.
During the winter of 1944–1945 that brought food shortages and hunger across the Netherlands, the Stroomenberghs still managed to feed all the members of the household. Despite the hardships, the family also sheltered Abraham Wijnschenk and his wife, Judith (née Baars), for about three months.
On January 30, 1997, Yad Vashem recognized Jan Hendrik Stroomenbergh, his wife, Johanna Susanna Stroomenbergh, and their children, Jan Stroomenbergh and Johanna Susanna Halpern-Stroomenbergh, as Righteous Among the Nations. The Jews whom they rescued were among the 25 percent of all Dutch Jews who survived the Holocaust.